Hosting
The rise of the virtual meeting room: does your business need one?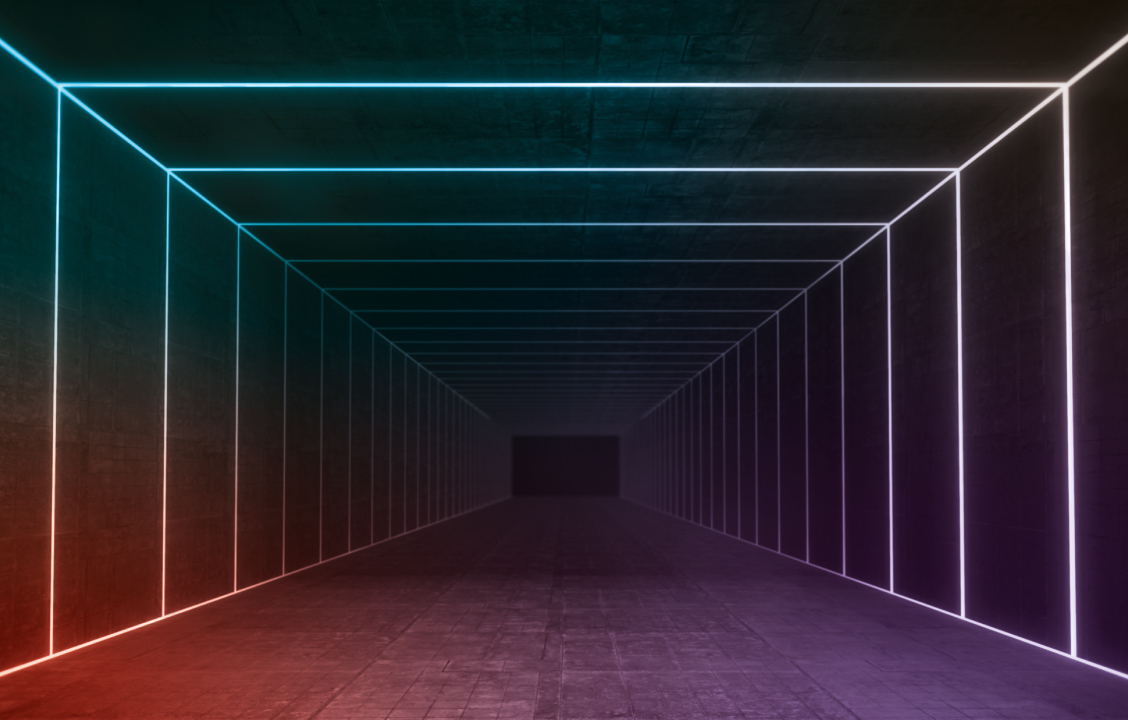 As virtual meeting rooms become more and more prevalent worldwide, we discuss the advantages of these spaces and how to make yours as beneficial as possible.
Convenience is king when it comes to corporate communication. If you run a business or organisation, you will understand just how critical having clear lines of contact with clients, customers and employees are. The pandemic has left many dialling into calls remotely, or trying to find a quiet corner of office space to deliver presentations from.
While video conferencing itself is convenient, when you don't have a set process for internal calls or meetings, things can soon get messy.
If you don't have the space or need for a permanent physical set-up or need a more ad-hoc, instant solution, a virtual meeting room could be the answer.
What is a virtual meeting room?
This is a virtual hosted 'space' which can be accessed at any time, by anyone in your team, anywhere in the world. There's no software required, just a compatible device and browser. This means that employees with even the most basic set-ups can gain access to meetings.
There are two types of virtual meeting rooms typically needed for different scenarios:

Permanent virtual meeting rooms
Having somewhere that can be accessed by your team 24/7 means there's no need to spend unnecessary time setting up meetings and sharing links.
The details to access the meeting will always remain the same, which reduces confusion, logon difficulties and no-shows. If something needs to be dealt with swiftly or an ad-hoc meeting is required, everyone can easily meet without scrambling around for meeting details.
One-off virtual meetings
When more private spaces are needed, a one-off virtual meeting room can be created, away from your permanent meeting spaces. These kinds of meetings are ideal for clients or for more private conversations with remote employees, such as financial discussions or progress reviews.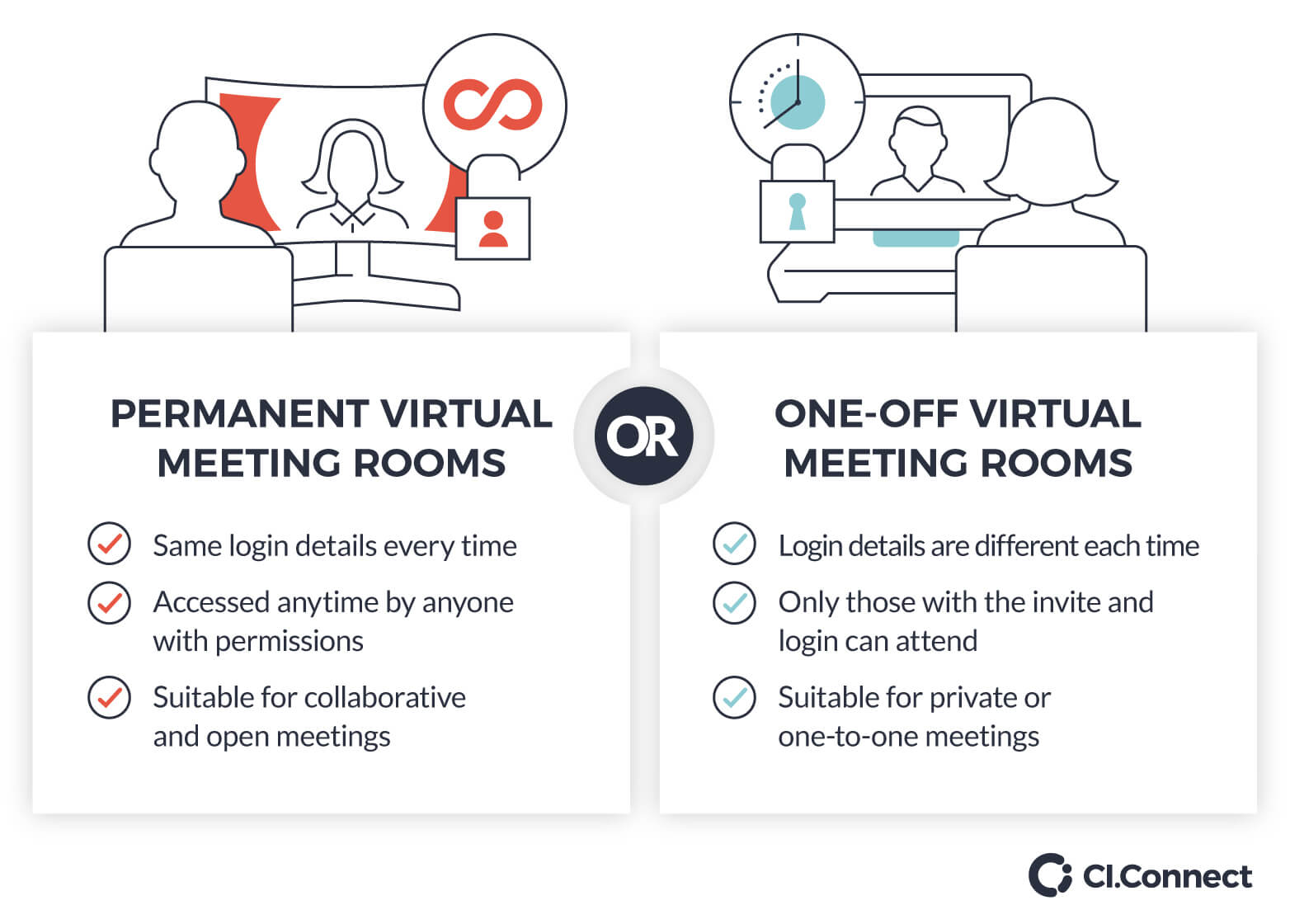 What makes a virtual meeting room effective?
Attend from any location
Having access to a virtual meeting space means being able to 'meet' anywhere in the world at the drop of a hat. Whether you're in the office, working from home or halfway across the world in a hotel lounge, as long as you have your computer and WiFi available, you're good to go.
No space restrictions
For teams who have little office space and are unable to commit to a dedicated meeting room, a virtual meeting room provides a way to communicate professionally without giving up precious space.
For companies that may have reduced office square footage, or the need to collaborate globally, having people log on from wherever they are means less coordination and management.
Compatible with most devices
There's no need for fancy equipment or set-ups – you just need your laptop and a decent WiFi connection. This means that whether you are speaking to clients, employees or suppliers, it's most likely they will have what's needed to join your virtual meeting.
Cost-effective solution
Not only does a virtual meeting room come at a reasonable subscription price – it also significantly reduces overheads. There's less need for additional office space, furniture, expensive hardware and equipment, and companies can also save thousands each year in travel expense claims.
Improved productivity
Less travelling and fewer minutes spent setting meetings up give teams the freedom to collaborate from wherever they are in the world, without wasting time.
Being able to present ideas, pitch for new business or get input from colleagues in just a few clicks leaves teams with major advantages and able to make the most from their time together without interruption.
Employee satisfaction
While working remotely has really taken off, some businesses still have concerns about productivity levels when working from home. Having a virtual meeting room set-up means that employees are contactable, have access to management when needed and can collaborate effectively without the need to be physically present in the office.
Giving prospective and existing employees the option to work from home, safe in the knowledge they are contactable through virtual meeting rooms, gives them more flexibility and makes roles more appealing to candidates.
Inclusion for all team members
Sometimes finding the best talent means looking further than your own doorstep, and virtual meeting rooms help to cast the talent pool net wider than ever before.
From interviewing candidates in various locations around the world, to ensuring they feel virtually connected to their colleagues when they join, barriers to global collaboration are broken down by the power of virtual meeting rooms.
Good for providing support
From screen-sharing and training to presentations and technical help, virtual meeting rooms provide a strong platform of support for clients and employees alike.
Environmentally friendly
When travelling isn't needed as often, the carbon footprint of the company is reduced. Using your virtual meeting room to collaborate with clients in another country? You've reduced car and air travel. Decided to hold your company update event virtually? You've saved time, money and emissions.
The small choices you make as an organisation each day really start to add up, and the positive impact a virtual meeting room can have on the environment is considerable.
When would a virtual meeting room be a good idea?
Meeting with clients, connecting with remote workers or those across the world, a virtual meeting room gives you instant access to a professional online video call setting at any time, without having to think about setting it up or worrying about the logistics of room booking. Additionally, it gives participants the chance to speak face-to-face without having to travel.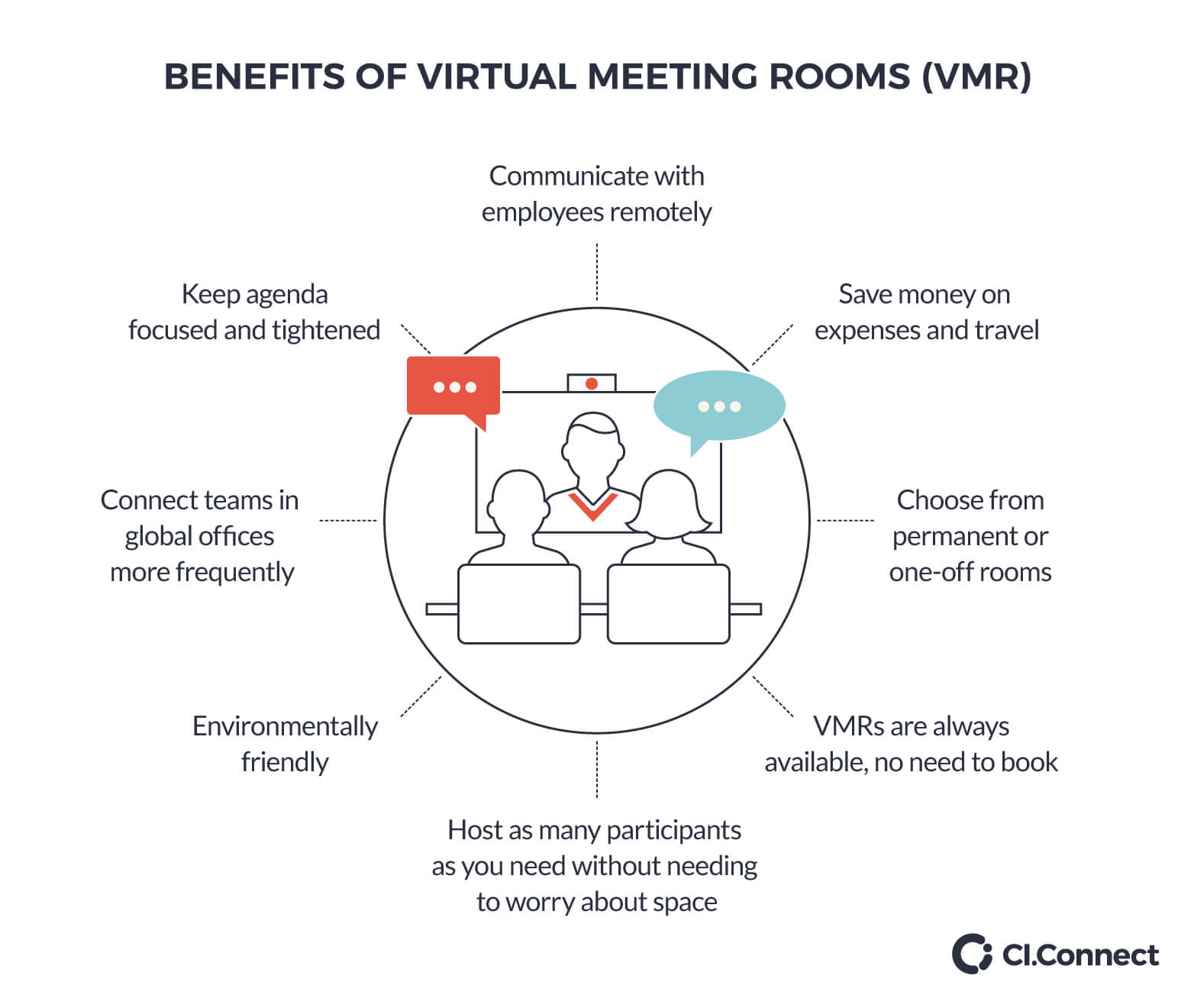 Working remotely
As working remotely becomes the norm, this presents a whole new opportunity to recruit top talent from anywhere in the world.
One-off virtual meeting rooms give you the freedom to interview candidates quickly and privately. Permanent meeting rooms give you the confidence to communicate with employees working remotely, wherever they are based.
Company-wide meetings
Ensuring departments across an organisation retain a 'one-team' approach can be tricky – particularly when employees are scattered in different locations. Some may be full-time remote workers, others may be permanently office-based, but the challenge lies in keeping them united across borders.
A virtual conference room or meeting room gives a centralised location for company-wide updates in a secure, digital environment. When face-to-face isn't feasible, a virtual meeting room provides a high-quality level of interaction that keeps companies connected.
Meetings with long-distance clients
Even clients of low financial value will expect facetime with their key contacts. And as it's not always cost-effective to travel far and wide to appease every relationship, a virtual meeting room can help you respond to client needs, build a rapport and make it possible to connect quickly when time is of the essence – without spending more than you need to.
Are virtual meeting rooms here to stay?
Depending on what type of organisation you're in, a virtual meeting room provides great accessibility for clients, customers, employees and more. As far as functionality goes, they are fit for purpose for all the reasons we've listed so far.
Some will argue that nothing beats an in-person conversation, and while for many scenarios this rings true, it's also not always feasible, cost-effective or necessary to meet face-to-face.
As the demands of businesses change significantly, technology such as virtual meeting rooms provide a smart, future-proofed solution for cross-border communication.
Unsure if a virtual meeting room is right for you? Talk to the experts at CI.Connect.