Video Conferencing
The evolution of video conferencing: future-proofing your set-up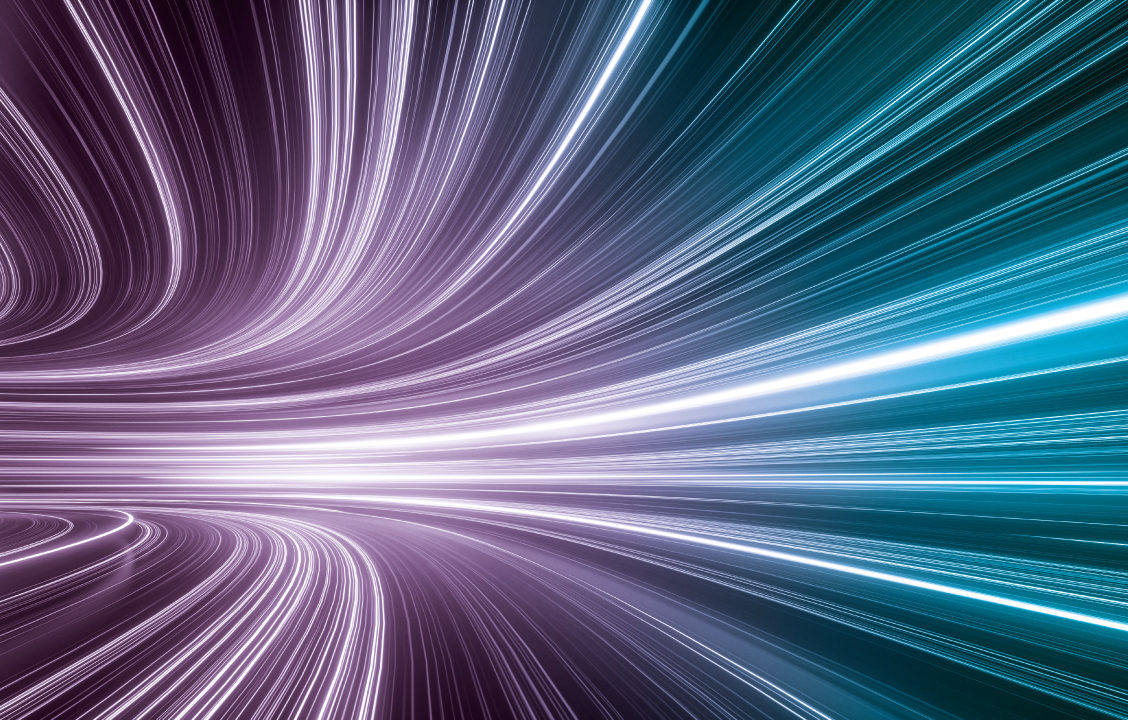 Explore how pivotal video conferencing technology has become to modern life, and what steps companies can take to future-proof set-ups to reap lasting benefits.
If you can remember when video conferencing was more frustrating than it was useful, then you are probably old enough to remember dial-up internet. Thankfully, technology has come a long way since then.
Pre-COVID, video conferencing had already become a pretty standard method of communication, and has since become firmly, if not permanently, woven into the fabric of the technology landscape.
What is video conferencing and why do I need it?
Video conferencing is the technology that allows you to connect with people virtually, wherever they are in the world. Doctors are seeing patients with it. People are attending therapy through it. Entire global organisations are communicating through it. So should your business invest in it?
Perhaps you already have but it's not quite living up to expectations. Once video conferencing is set up, it's very easy to use. But if you don't have the right set-up in place to begin with, it could create more problems than it solves.
That's why it's important to engage an expert. Much like you would consult with someone before getting building work done or ensure you read the recipe before cooking a new dish, there are several, detailed steps to take when assessing what kind of video conferencing set-up your organisation needs, each as important as the next.
Considerations for your video conferencing set-up
Simply purchasing well-reviewed kits online is no longer feasible for serious businesses that want a world-class communication experience.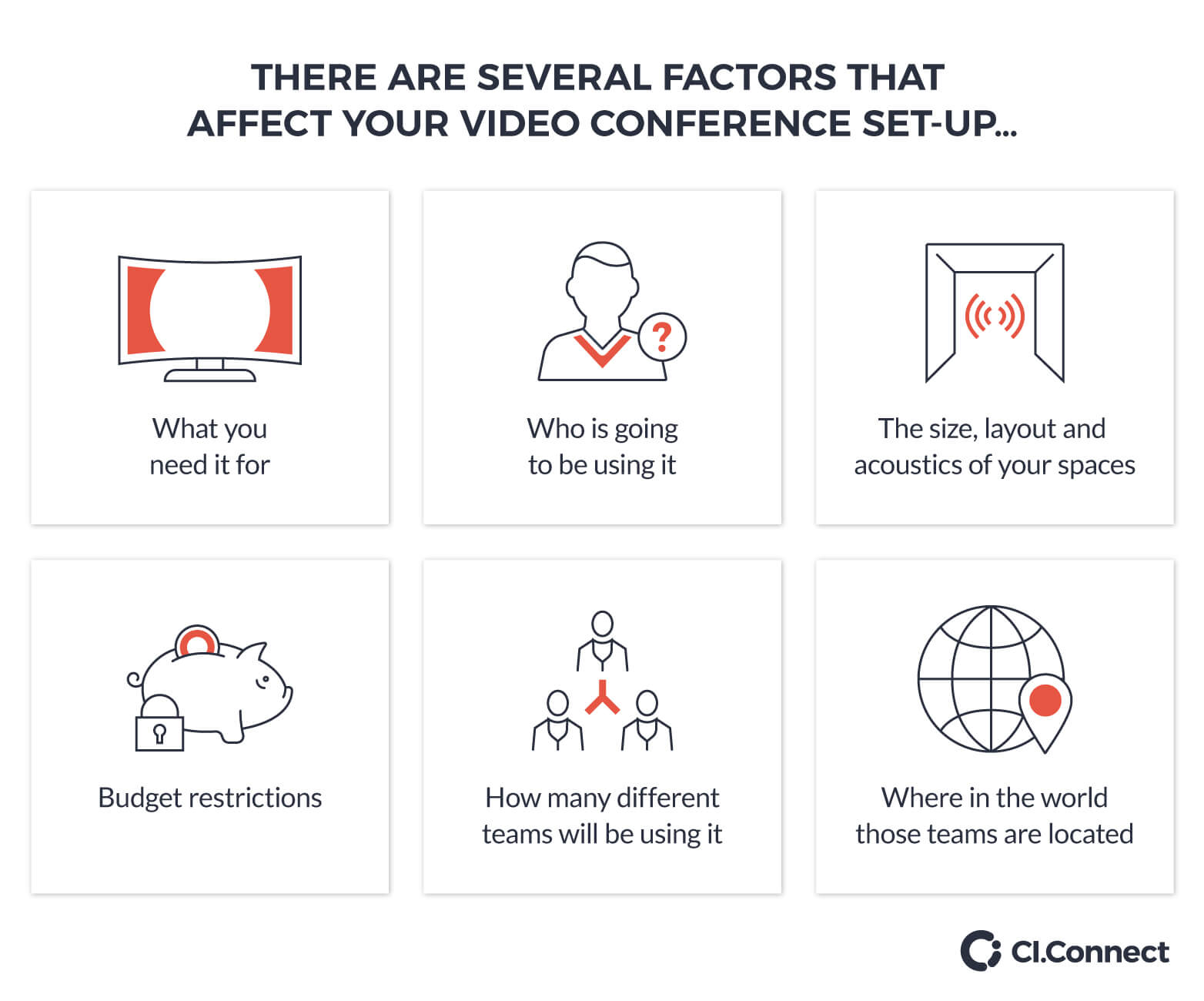 These and many more elements of your organisation need to be thoroughly assessed before a plan can be put in place. Without the advantage of this information, product selection is ineffective, redundant and likely won't be fit-for-purpose.
What types of video conferencing are there?
One of the most common uses for video conferencing today is remote and flexible working. Many office-based jobs have switched to whole or partial working from home.
This means talent can technically be recruited from anywhere in the world, as strong collaboration is still made possible with the right video conferencing set-up. Not only does it bring strong people into businesses, but it also makes globalisation much more achievable.
Many service-based offerings have switched to remote appointments too, from doctors and solicitors appointments, to personal training sessions and wine tastings. The world has become far more accustomed to conversing digitally, and our once camera-shy population has fully embraced the drive to go digital.
Finding the right video conferencing set-up for your teams

Huddle rooms
A small pod that can be formed in an existing space or anywhere within a building floor.

Medium-sized rooms
Everyday meeting spaces for in-house or global collaboration with clients and teams.
Board rooms
Large spaces that demand impressive tech for important stakeholder communications.
Training rooms
Whether for CPD, webinars or classroom content, we can create the optimum learning experience.
Collaboration rooms
Multi-use areas that incorporate a range of technologies for various conferencing scenarios.
What equipment is needed for video conferencing?
Displays and screens

While those on the other end of your call may only be using their laptop, your digital screen and displays will act as the single point of reference for you.
If you're communicating with clients, it's important you can see them clearly and that you can view any documents or files in 'screen share' mode without trouble. You may need a single screen or a dual-screen that allows you to see several people clearly in gallery view.
Or you may benefit from interactive screens and whiteboards if you are working collaboratively with colleagues. The quality of your screens will not only make the experience better for you and your teams, but also for the recipients on the other end. If you have the right screen set-up, you will be able to interact much more effectively.
Audio and video conferencing software
This is about choosing a preferred software provider to facilitate your web conferencing. Some of the most common vendors include Zoom, Microsoft Teams and LifeSize.
While we have relationships with each of these organisations, we are completely brand-agnostic, and will only ever recommend the provider we think will benefit your organisation most.
Camera
In order to appear professional, you need to be professional. And this starts with having the right camera. While many modern laptops come with a built-in camera, they aren't always fit-for-purpose in professional video conferencing set-ups.
We consider which camera is right, how it should be positioned and how you can give your organisation the best video conferencing experience possible.
Microphone, speakers and sound quality

You've got the screens, cameras and the software, now you need to be heard. Finding the right configuration of microphones and speakers that work in your particular environment is one of our most important considerations.
It may be that we recommend different audio set-ups in different rooms or offices, depending on the size, layout or furnishings of said space. Ensuring that voices are heard clearly, only when required and reducing echo are key priorities in our strategy.
Control panel
The central remote or screen that controls your set-up. From here you are able to log in, create meetings, record, change settings and so much more.
Having an easy-to-use control panel makes the world of difference in video conferencing, as it reduces technical difficulties and confusion. Think of it as the hub of your communication technology.
Connectivity
Everything we've listed so far is integral to your video conferencing strategy. But a strong, reliable internet connection is what will hold it all together.
The amount of data being exchanged during video conferencing calls is significant, and while most cloud hosting solutions make this seamless, your internet connection needs to be solid enough to support it.
What steps can clients take to future-proof their set-up?
Video conference room set-up

Thinking about the space you have and what your organisation wants to portray, the room itself plays a key role in whether your company – and you – look professional. Our team can assess your spaces and make recommendations for utilising the best rooms possible.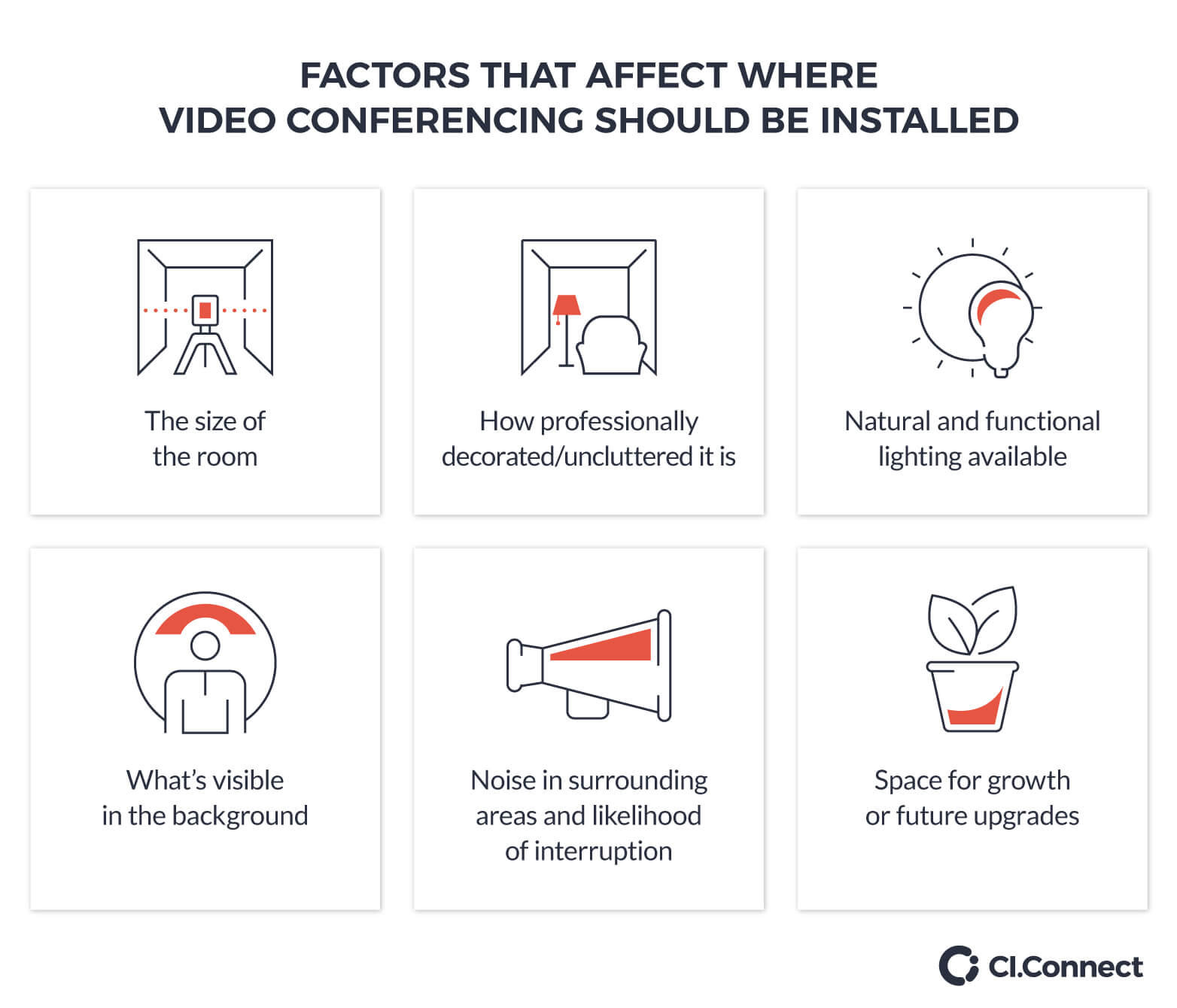 Camera types
When choosing the right camera, we consider more than just the standard. If it's a collaboration space, we may look at a wide-angle lens to cover the entirety of the room, or if you're providing a professional, personal service, we can look at cameras with multiple functions and settings.
In most cases, the cameras we recommend will offer both preset and customisable camera set-ups, to help you adapt the framing to be the most appropriate for various uses.
High definition screens
There was a time when screens would be released frequently, with increased definition or size. While improvements are continually made to production, most screens are incredibly well-made to offer high-definition video quality.
While budget will influence which screen we recommend, we will always ensure we choose the best possible quality that will provide longevity over the years.
Sound and microphones
As mentioned earlier, being heard clearly and correctly is a big part of making video conferencing an effective way to communicate. We will look at agile sound set-ups that ensure that the room is fit-for-purpose for multiple set-ups.
Whether it's a centralised microphone that captures those talking at the right time and reduces background noise, or wireless individual mics that can be quickly muted and unmuted – there's a lot more to microphone selection than you might think.
Our team is entirely up-to-speed with the latest and greatest technology. And what's great about them is that they won't just recommend the newest microphone for the sake of it; they meticulously assess what it is you need and find the future-proofed products that are right for you, regardless of brand pressure or perception.
What does the future hold for video conferencing?
As far as technology goes, the quality of products is at the highest it has ever been. The issue facing organisations looking to invest is that knowledge in this area of tech is fairly limited and often skewed towards different brands. At CI.Connect, we pride ourselves on being brand agnostic and believe in making recommendations that will benefit and help to grow your business.
Want to know more about video conferencing? Speak to our experts today.