Support
The importance of scalable video conferencing solutions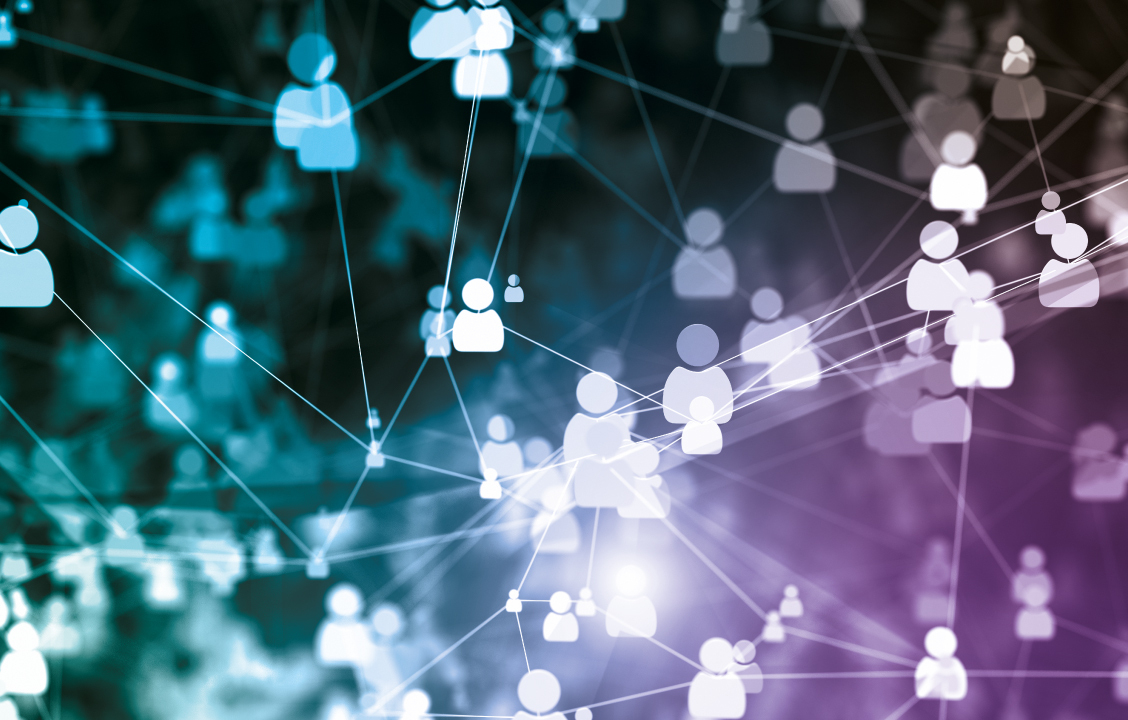 Explore the importance of a truly scalable video conferencing solution in today's landscape, and the value of a strong support network around you.
Hitting the pause button while running a business is not an option. Companies are constantly evolving and changing. They adopt emerging technologies. They relocate or expand into new locations. They see employees come and go with each passing year.
Due to this endless flux, scalability is a sought-after quality for organisations globally. The ability to react to business changes and either scale up or decrease capacity accordingly is more valuable than ever.
This is especially true of video conferencing set-ups. As this technology has become increasingly vital to efficiently communicating with audiences far and wide, business owners need assurance that their solution can grow with their company.
Here, we discuss the significance of scalability in your video conferencing set-up, the limitations of an unscalable solution, and how the right support service helps you evolve over time.
The growing need for scalability in video conferencing
In the span of a few years, video conferencing set-ups have transitioned from nice-to-have additions to essential functions for modern organisations. However, not all set-ups are built with scalability in mind.
The fallout from the COVID-19 pandemic is a testament to that. When many companies switched to remote and hybrid working philosophies, and started to rely on video conferencing over in-person meetings, it became apparent their existing set-ups had neither the flexibility nor capacity to handle this increased activity.
Call quality diminished. Systems couldn't accommodate the number of users. Bandwidth across companies was stretched thin.
This emphasised the importance of scalability in video conferencing clearer than ever. Having a solution in place that can adapt to ever-changing circumstances allows teams to take occurrences like this in stride.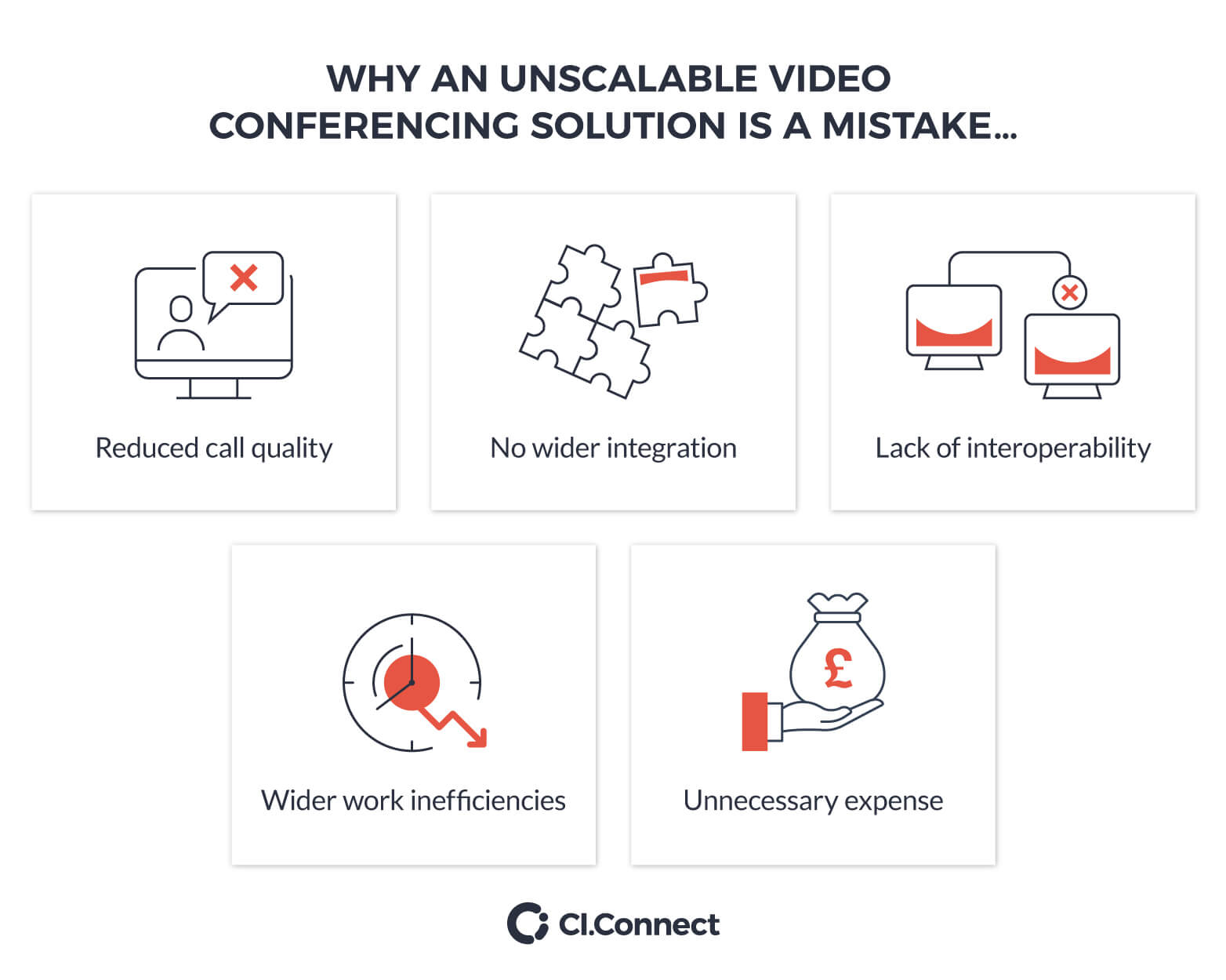 What are the drawbacks of unscalable set-ups?
Reduced call quality
If the number of video calls or users exceeds the boundaries of a video conferencing set-up, it can place an immense strain on bandwidth. When bandwidth struggles, it can cause calls to suffer a significant drop in quality, and connectivity problems.
With expectations over the quality of video calls rising every year, not being able to deliver a good experience to customers, clients and colleagues could hurt your reputation in their eyes.
No wider integration
An unscalable solution will typically be incredibly rigid when it comes to what software and hardware is used. So, as new technology emerges, and legacy equipment falls by the wayside, these set-ups will be less capable of incorporating fresh devices.
Consequently, companies may have to frequently rip out and replace their set-ups to accommodate more bandwidth, more users and new equipment, ramping up costs. A more scalable solution will be more capable of integrating technology into these set-ups, allowing them to be functional for longer.
Lack of interoperability
This rigidness can also limit the software interoperability of video conferencing set-ups. While Zoom and Microsoft Teams are the current standard-bearers of this industry, who knows what the landscape will look like in five years' time? Even today, many individuals and companies prefer software outside of these two heavyweights.
So, it is critical that your set-up can communicate with different software, and can be scaled up to take on more as time progresses.
Unnecessary expense
As well as upscaling set-ups, it is important to look at the other side of the coin. If your company downsizes or becomes less reliant on video conferencing rooms, an unscalable solution could result in you paying over the odds for licenses and users that you no longer require.
An effective scalable video conferencing solution will allow you to increase and decrease capacity whenever this is required.
Wider work inefficiencies
Finally, an unscalable video conferencing set-up can have a knock-on effect on wider workplace productivity. If multiple calls are eating away at bandwidth, this can slow down all other Internet-based activities throughout the company.
If the business instead looks to preserve bandwidth by limiting the number of calls that take place per day, this hinders your capacity to book meetings and collaboration activities with remote workers. Schedules need to be pushed back, which can then affect the rate at which work is completed.
Upscaling your video conferencing solution
Upscaling or upgrading your video conferencing set-up should be a seamless, straightforward process, providing you have the right solution in place.
A huge aspect of scalability is access to a Cloud-based, robust hosted service. Instead of having all hosting handled by internal hardware, which can be expensive to replace or update when you need to add more capacity, a subscription to the Cloud is more cost-effective and adaptable in these circumstances.
When you need to grow or make changes, licenses can be immediately added or removed. Bandwidth capacity can go up or down based on your requirements. This means that your company can continue to benefit from high-quality video calls without risk of interruption, no matter how your organisation is evolving.
Alongside effective hosting, it is crucial that the suppliers of your set-up provide a dependable support service. When you are looking to grow your capacity, or expand your set-up to other locations, it is important that your providers are actively ready to help you make this step.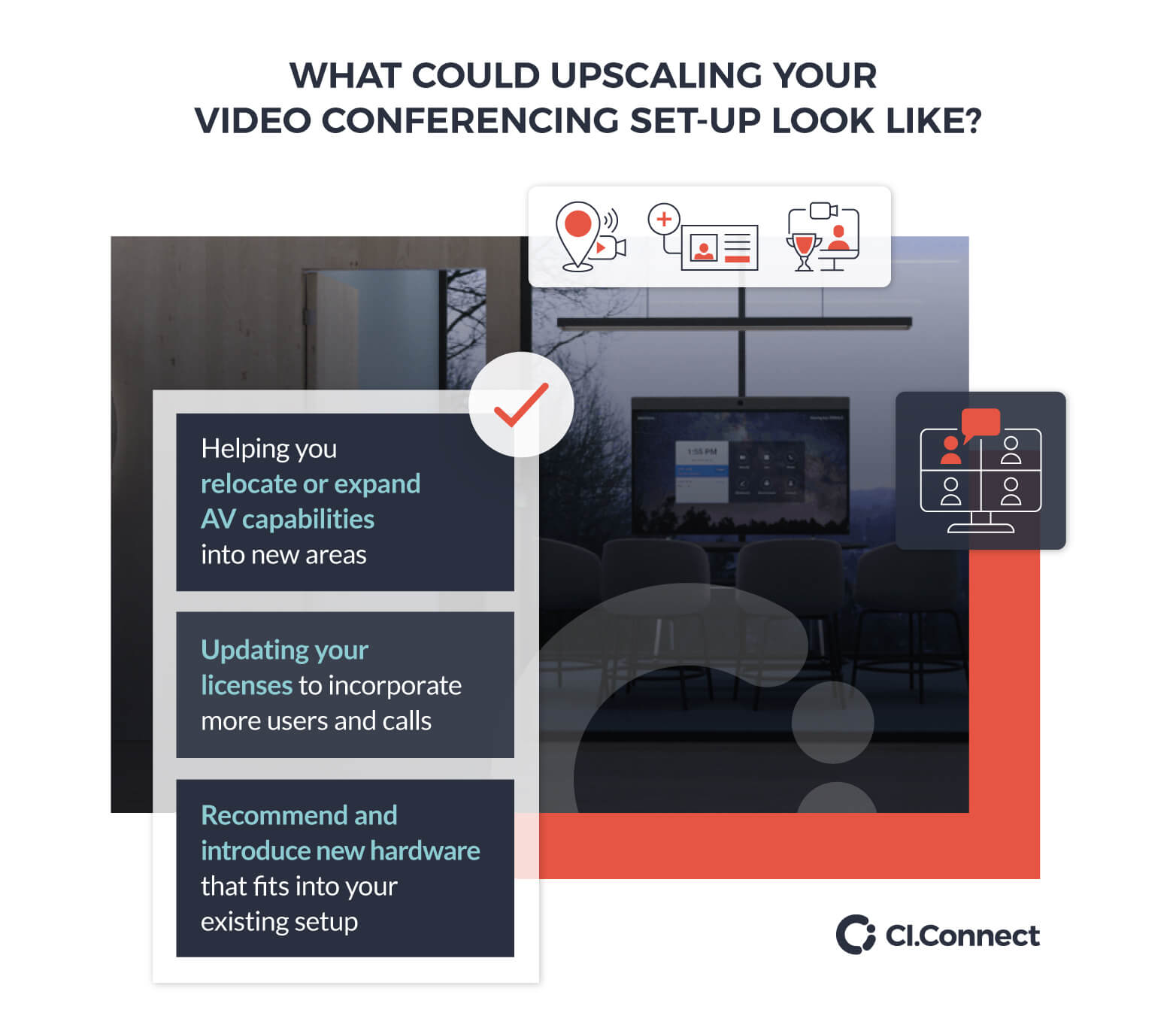 Therefore, a truly scalable video conferencing solution relies on a dependable, expert support network to unlock it – something you will gain from our team at CI.Connect.
Comprehensive support from CI.Connect
At CI.Connect we don't believe in a "set and forget" culture. We understand that our clients are constantly evolving, and need a video conferencing set-up that allows them to make changes without compromising on quality.
Our expert technicians deliver continual support post-installation, ensuring your IT teams aren't burdened with problems surrounding your video conferencing solution. We will be there when you need to scale up or scale down your set-up in accordance with your needs, so your solution is always everything you need and more.
Discover our support services and make your video conferencing set-up truly scalable – get in touch with us today for a free consultation.