Audio Visual
The advantages of an AV equipment refresh strategy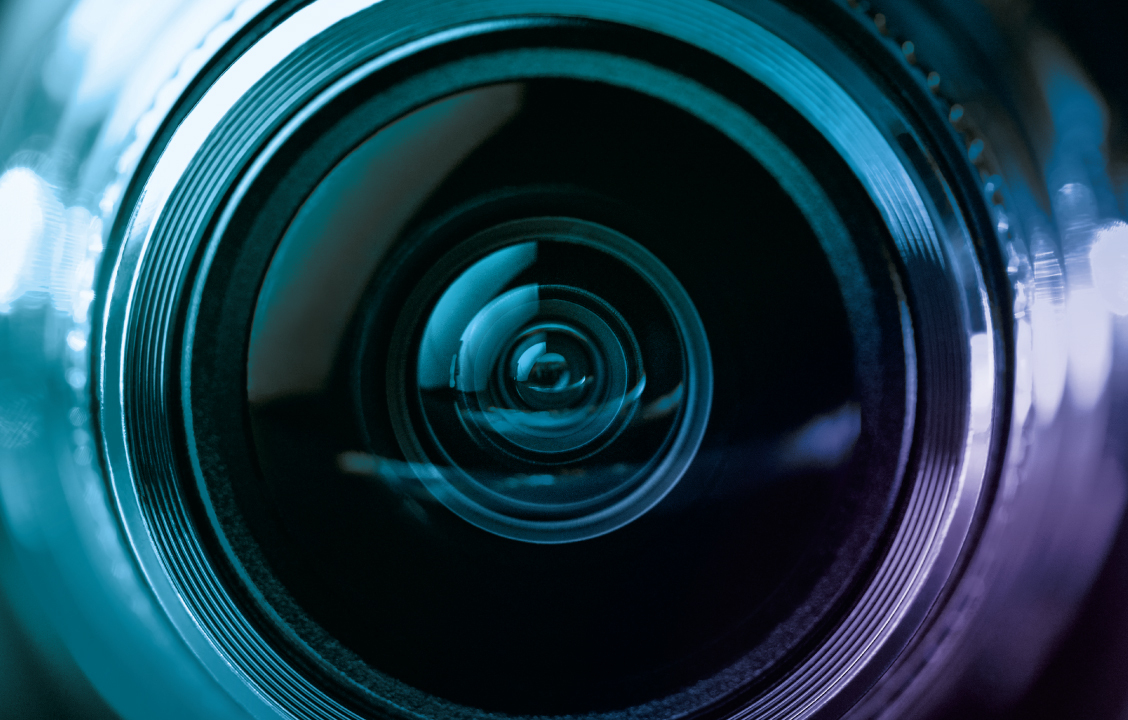 The importance of up-to-date, functional audio visual equipment is more pressing than ever. Learn here how you can efficiently refresh your set-ups to maximise your budget.
An organisation's audio visual (AV) equipment is more pivotal to its operations than ever before. Whether it is enabling important calls with colleagues, clients or business partners, or helping create interactive, collaborative workspaces, the importance of this technology only continues to grow.
Due to this significance, manufacturers are always striving to improve and enhance AV equipment, and are doing so at a rapid rate. This is great news for the future of this industry, but it does pose a problem – the gap between a device being brand new and becoming out-of-date is shrinking.
This makes it vital for organisations to have a plan in place to keep their AV equipment up to date, so their set-up continues to deliver maximum performance while staying within budget. Below, we'll break down the advantages of an AV equipment refresh strategy and how our experts at CI.Connect can help you fulfil it.

What is an AV equipment refresh strategy?
An AV equipment refresh strategy is a dedicated plan based on the lifespan of your AV equipment, ensuring that everything is always up-to-date and fit-for-purpose.
Few things can grind productivity and efficiency to a halt in the modern workplace than substandard or outdated AV equipment. However, updating and refreshing technology can be an expensive proposition, particularly if it requires replacing all existing equipment with a fresh, new set-up.
Not every business will have the budget to carry this out. So, an AV refresh strategy will help you plan and budget for equipment updates over time, ensuring that technology is only replaced when the time is right, and that your set-up is regularly reinvigorated with the latest solutions.
The benefits of an AV refresh strategy
Maximised budgets
By having an established strategy in place, companies can plan for when particular pieces of AV equipment, be it screens, microphones, cameras or speakers, are updated based on their lifespans and the available technology out there. This helps ensure they don't pay for equipment when there is no need for it, or that they will need to stretch their budgets thin for a completely new set-up every few years.
Boosted performance
Frequently upgrading equipment at suitable times will help guarantee that your AV set-up is working at optimal performance. There's no risk of video meetings being derailed by poor quality visuals or inconsistent sound. Instead, you will have a fully functioning solution in place, keeping you connected with colleagues, clients and customers worldwide.
Enhanced productivity
Before equipment can reach the point that it is seriously hampering productivity and efficiency, an AV refresh strategy will help ensure slow, outdated technology is replaced with a more modern alternative.
Organised upgrades
An AV equipment refresh strategy sets a clear schedule of work to consistently evolve your set-up. So, rather than simply wait for all equipment to become obsolete, gradually hurting your productivity and eventually requiring an expensive refresh, this keeps upgrades organised and manageable. Less downtime and disruption, more reliable performance all year round.
Stronger reputations
In today's landscape, a company's reputation is tied closely to the quality and performance of its AV equipment. A structured strategy to revitalise and strengthen your set-up will ensure your video calls continue to meet and exceed audience expectations, boosting your standing in their eyes.
How we can support your AV refresh
We firmly believe that an AV equipment refresh must be tailored to each individual client – the needs and preferences of your organisation could vary significantly from another's. So during any project, we will take the time necessary to understand your circumstances and your environment.
This starts at the proposal stage, where we will meet with our clients to assess their layout and discuss their requirements. Our client's input is vital to determining our course of action, so you'll probably find us asking lots of questions.

Our team will also thoroughly assess your meeting rooms. We will look at everything from the wall, floor and ceiling structure to determine what that means in terms of wiring and acoustics, through to the pre-existing equipment and their functionality.
The answers to these questions and our on-site assessments will guide our engineers when working on an appropriate plan based on these and your budget. This ensures that your AV refresh is bespoke to your needs, and your set-up will function as you expect it to.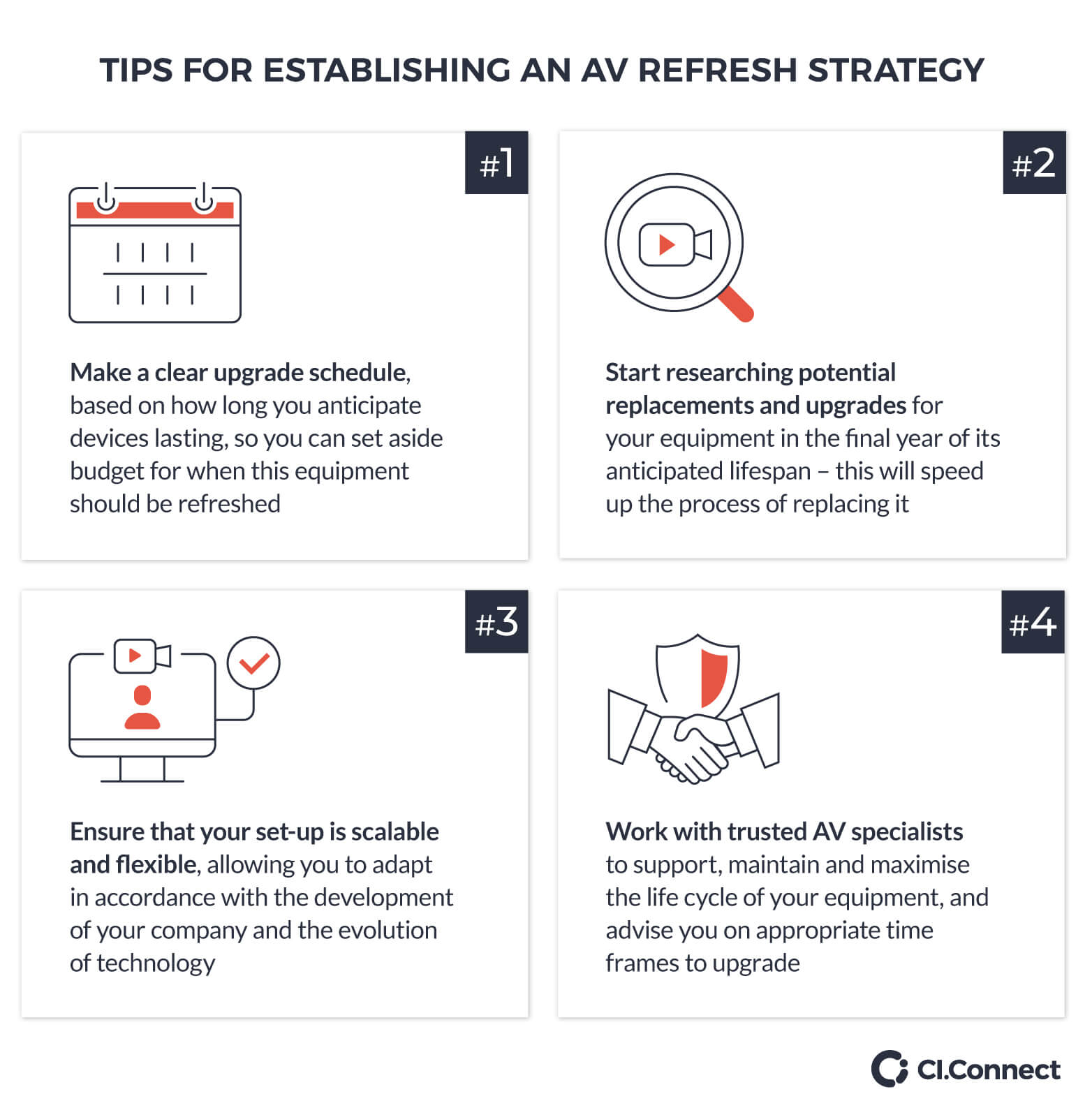 Talk to the experts in audio visual solutions
Having access to up-to-date AV equipment is crucial for the quality and consistency of your communications with both internal and external audiences. We hope this article has encouraged you to think about when and how to refresh your own set-ups.
If this is something you are considering, CI.Connect is here to help. From identifying the best screens, cameras, microphones and speakers for your requirements, to creating audio visual set-ups that suit the structure and layout of your rooms, our engineers take a completely holistic view when deciding the best way to improve your experience.
Get in touch with our experts today to discuss how we can take your AV equipment to the next level.