Video Conferencing
Out with the old? What to do with legacy video conferencing equipment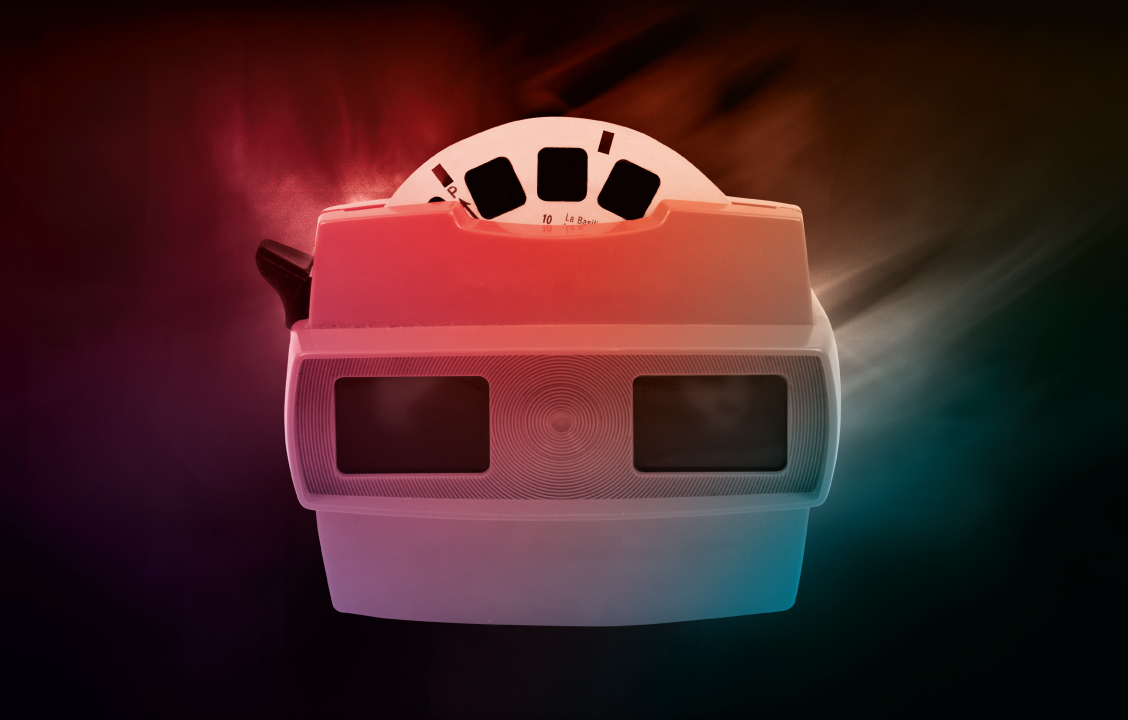 As video conferencing technology rapidly evolves, this article explores the issues with legacy equipment and how companies can properly address these.
In today's landscape, the evolution of technology never takes a breather. In fact, the pace at which technology develops and changes only quickens with each passing year.
And there are few areas where this is more evident than in video conferencing (VC). Current VC software and hardware has come leaps and bounds in a short space of time – and will only continue to evolve as these systems become more and more necessary in the modern world.
But, where does this leave businesses who have invested significantly in their existing VC equipment? If this technology continues to change at a rapid pace, how can organisations help ensure that they can keep up without having to start from scratch every few years?
If these questions continue to pop up in your mind, below we will discuss what options companies have when it comes to their legacy VC equipment.
What is legacy equipment?
Legacy equipment refers to devices, systems or software that is now outdated, obsolete or no longer in production. When equipment is discontinued by the manufacturer, this means it won't continue to receive updates or maintenance support.
This doesn't mean that the technology immediately stops functioning. Indeed, clients we've worked with in the past have had the same systems in place years after the equipment reached its end-of-life cycle. We've walked into offices where they are still using chunky televisions and old Polycom stands to facilitate their conference calls!
However, holding onto this technology for too long can have major drawbacks.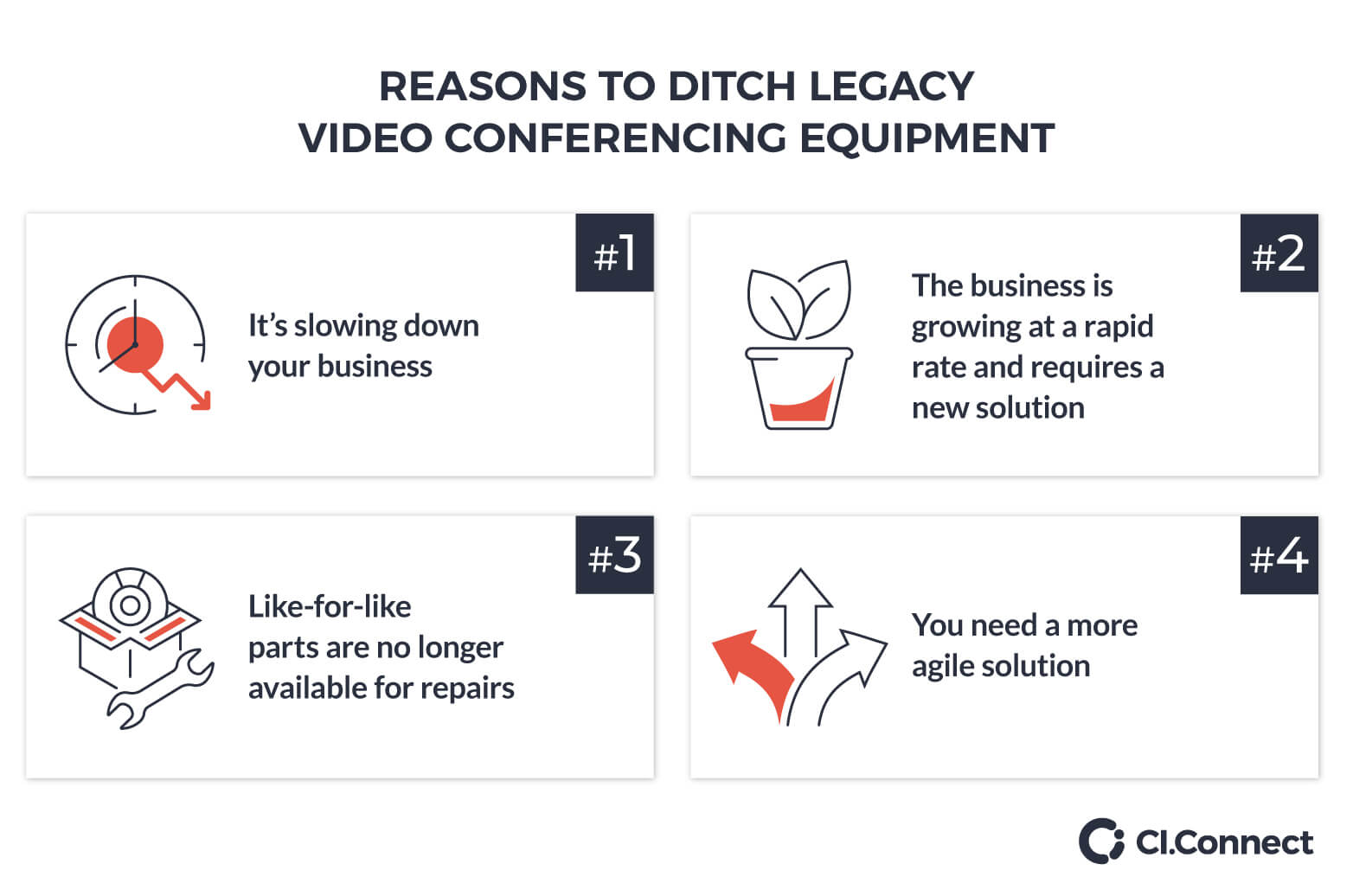 The potential problems with legacy equipment
Poor call quality
First, depending on the age of legacy equipment, it is possible that the quality and experience of a video call does not meet today's standards.
What passed for a good quality call five years ago may not be ideal right now. Screens, microphones and other equipment will have noticeably improved in that time, while Zoom and Microsoft Teams have set new standards for video conferencing software.
As a result, this could be a potential turn-off for internal teams, clients and external partners, who might view this as a signal that a company is behind the times.
Communicating with different software
Speaking of Zoom and Teams, it is crucial that modern video conferencing set-ups are capable of communicating with remote employees, clients and partners through their preferred software. Software interoperability is more critical than ever, and companies are expected to conform to the solutions employed by others.
Legacy VC equipment may not offer this capacity. A set-up may have been established for a particular form of software, which may have fallen away in popularity in the years since. This can make it hard for businesses to stay engaged with their various external audiences.
More difficult to run
Companies want their video conferencing set-ups to be as smooth to run as possible. One-touch operation. Immediate switch on when you enter the room. The ability to easily collaborate and record.
Legacy systems by comparison could be far more cumbersome to use, as they were established before the innovations of the past few years. This could be:

Having to manually type in IP addresses

Ensuring the bandwidth speed is suitable

Adjusting camera angles

Making microphones are placed properly
This takes a lot more effort than what the most up-to-date solutions offer. Persisting with legacy equipment can therefore hamper efficiency and make life more difficult – both for staff using the systems and the IT/AV teams tasked with making sure it's always functional.
Security concerns
Finally, because legacy equipment will not be updated or maintained by the manufacturers any longer, it could potentially make them less secure than modern systems.
As technology evolves, so do the array of cybersecurity threats out there. If a video conferencing solution is not regularly updated, it may be at greater risk of being breached, putting company and client data in jeopardy.
Is rip-and-replace the only option?
With these potential problems plaguing legacy VC equipment, it is important that companies know how they can prevent these from befalling them.
Ideally, the best course is to replace the legacy equipment with an up-to-date solution. A new set-up can last upwards of 5 years before changes in software and hardware will make a refresh appropriate. Depending on how old the legacy equipment is, sometimes this is the only possible option.
However, we understand that if a company spent thousands (or possibly even millions) of pounds in the past few years installing their set-up, only to learn it is now out-of-date, they are unlikely to be thrilled at the prospect of starting over again – especially if the equipment is still usable.
Therefore, in any project involving legacy equipment, we will look at ways we can upgrade and enhance the existing technology to extend its usefulness. This will often involve a cloud hosting solution.
For example, a suitable hosted service can enable an existing piece of hardware to communicate with software such as Zoom or Teams, even if that was not the original purpose of the hardware. This ensures software interoperability, allowing you to engage with clients regardless of their preferred platform without worries over disruptions.
We applied this solution for a global law firm with offices across the UK. As their original set-up was created to use Skype For Business, which was retired in July 2021, we adapted the system with a cloud service to allow it to communicate with Teams.
It may also be possible for more up-to-date equipment – such as better cameras or microphones – to be incorporated into your existing set-up, improving the quality and performance of your video calls. This provides a best-of-both-worlds solution

Fortunately, today's legacy equipment often carries the processing power to still function with modern equipment and software with a workaround solution like cloud hosting.
Eventually, all VC equipment will reach a point where it is no longer usable and must be replaced – but solutions such as this can extend their useful life until a business absolutely needs to make a change.
Adapting to your circumstances
We hope that this has given you an insight into how issues relating to legacy video conferencing equipment can be resolved. With the right solution in place, these set-ups can support organisations for a long time before becoming obsolete – and our team at CI.Connect are here to provide the ideal solution in your circumstances.
We will work closely with you to establish what you need your video conferencing system to deliver, be it in a boardroom, meeting room or classroom. Based on your requirements and the room layout, we will determine whether we can preserve and enhance your existing legacy equipment, or if an entirely new set-up is required.
Our clients' needs are our utmost priority. We adapt to your needs and expectations, and always propose what we believe to be the most suitable solution. Because we are completely brand agnostic, our choices are not influenced by a particular manufacturer – you get impartial, unbiased advice on what's right for your business.
Ready to upgrade the legacy equipment in your organisation? Get in touch with our team today for a solution that will connect you with your teams, clients and customers across the globe.