Video Conferencing
How to maximise collaboration while working remotely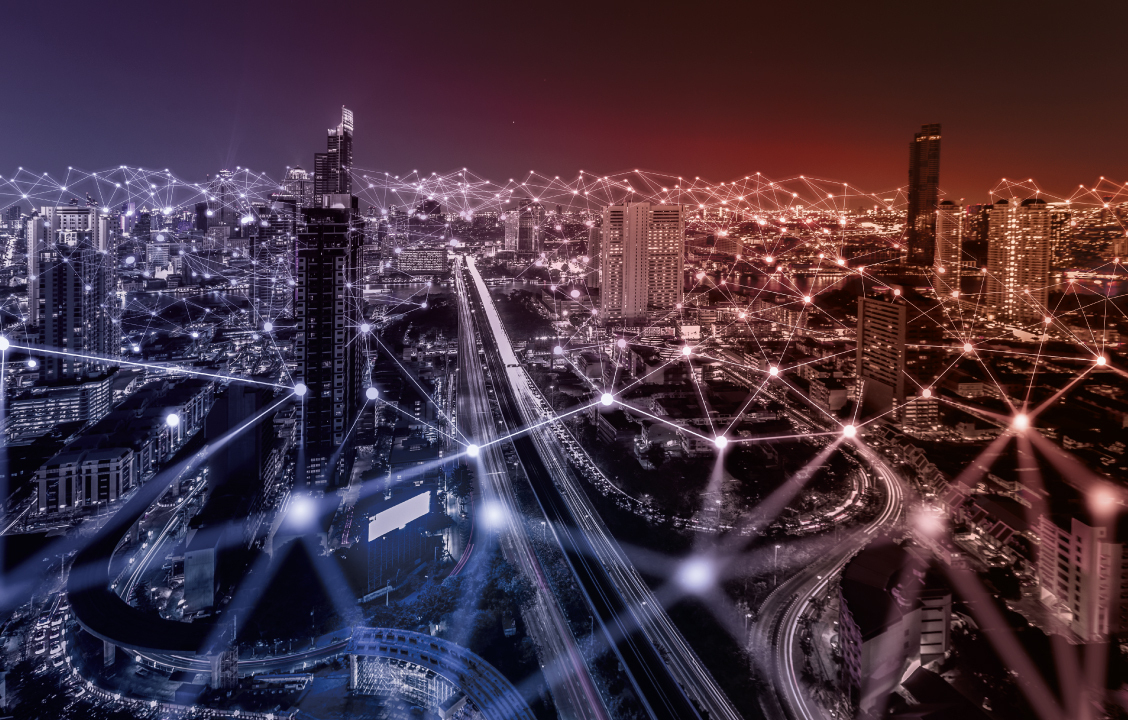 As more companies work remotely, this can hurt their ability to collaborate effectively. Here we explore how solid video conferencing set-ups make better collaboration feasible.
Remote working has been a hot topic for several years now – one that reached boiling point in response to the COVID-19 pandemic:

85% of employees working from home due to the pandemic want to continue with a hybrid approach (ONS)

In 2020, 19% of UK businesses said they would switch to a complete remote work model (CyberCrew)

The opportunity for flexible working is the second most important factor for recruits when deciding to accept a job offer (Randstad)
There is no question that remote or hybrid working offers its fair share of benefits – reduced costs on required office space, no commuting times, wider recruitment opportunities, flexible schedules.
However, it is far from a flawless philosophy, and one of the drawbacks that remote employees consistently bring up is problems with collaboration and communication.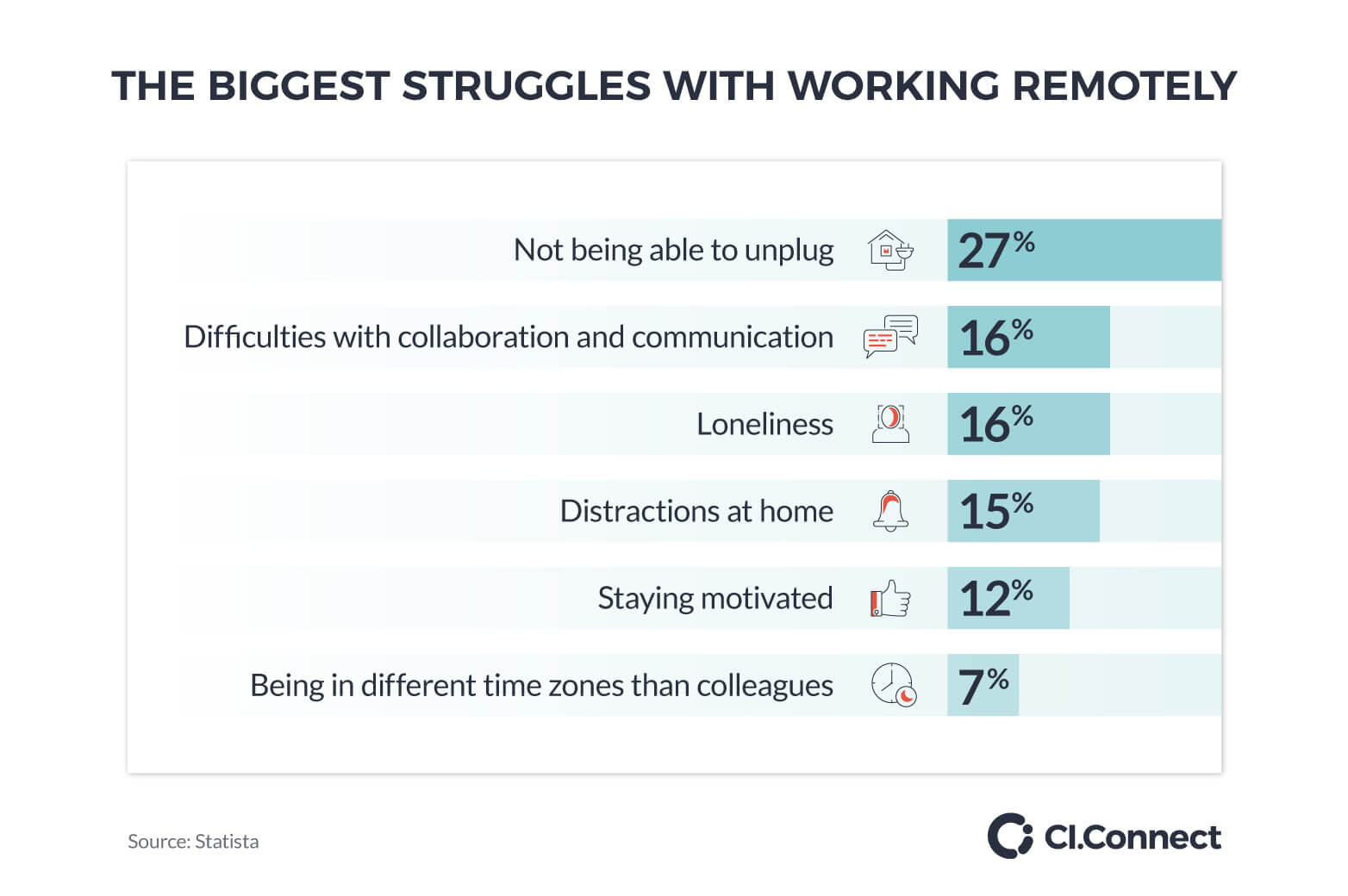 The challenge of remote collaboration
If you're working with someone else or a team on a project, it's far easier to coordinate activities and share information when you're in the same place. When all sides are separated by many miles and multiple computer screens, collaboration becomes a lot more complicated.
When communication falters, efficiency and productivity are not far behind. Tasks are unnecessarily duplicated. Emails and messages get lost or overlooked, driving progress to a halt. Employees are left confused about who to reach out to when a job is completed, or they need a helping hand.
The delays caused by an inability to collaborate remotely can directly hit a company's bottom line. Work is pushed back, deadlines are missed, clients are unhappy.
But the problems extend even further, as a lack of collaboration can have a huge hit on the morale and performance of remote employees. Reduced access to colleagues can magnify feelings of isolation, and cause staff to feel disconnected from your organisation as a whole.
This often results in a drop in motivation, which can then hinder both the speed and quality of your teams' output.
4 ways to enhance remote collaboration
If you have adopted a remote or hybrid working model and have found collaboration challenging, or these concerns are holding you back from introducing this in your organisation, here are some useful tips to enhance company-wide collaboration wherever your teams are based.
1. Robust video conferencing set-ups
Video conferencing technology is the essential tool of the remote working era. Software like Zoom or Microsoft Teams is crucial to keeping teams connected, enabling them to discuss and collaborate on projects in real-time, and maintain face-to-face relationships with their colleagues across the country.
However, it takes more than simply downloading some VC software to truly maximise the potential for collaboration these solutions offer. To ensure the best quality of engagement and inter-team communication, it's vital to invest in your video conferencing set-up.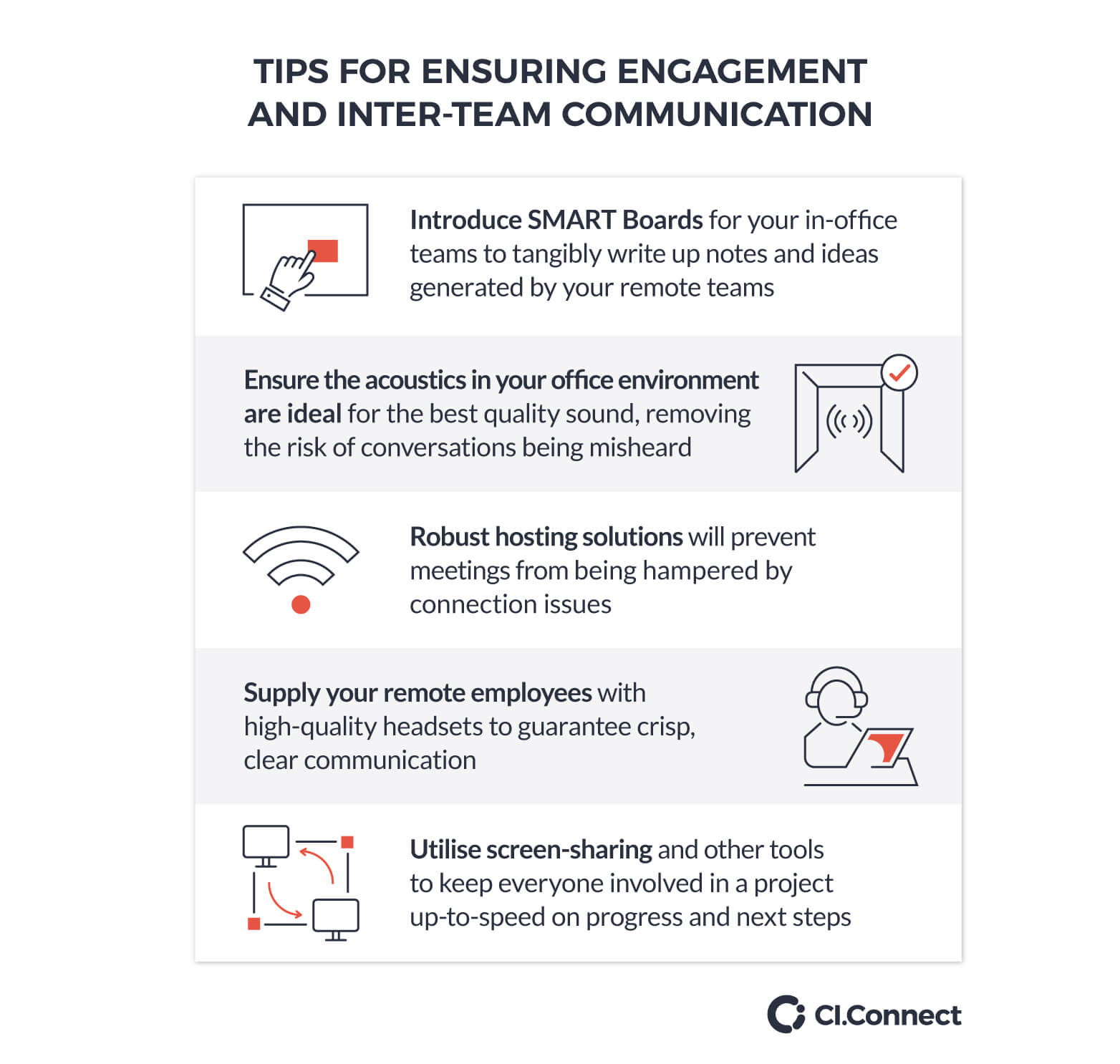 To offset the challenges posed by not having employees in the same space at all times, investing in exceptional video conferencing set-ups is critical for effective collaboration.
2. Harness messaging technology
Alongside strong video conferencing software, effective remote collaboration also requires access to good messaging technology. With emails an often slow, cumbersome way to communicate with remote workers, solutions like Slack and Teams allow for instant conversations between employees, allowing work to progress much smoother.
Have a question for a colleague? Need a quick update on a current project? These can be addressed immediately in real-time, without long waits for people to get back to emails.
However, having all company-wide communication in one place might overload employees. So, it is beneficial to assign distinct channels for your teams, allowing them to focus on the areas and projects that they are specifically involved in. They can collaborate with necessary colleagues, and avoid irrelevant conversations.
3. Dedicate set times for collaboration
One of the biggest hurdles to effective collaboration is aligning schedules. Employees have unique responsibilities and timeframes that often make it hard to arrange meetings on the fly. This is even harder with a remote model, as you can't simply walk down the corridor to check if someone is available.
To avoid this, it is vital to establish fixed times during the day dedicated to collaboration. This could be a 30-minute Zoom call in the morning to assign people's tasks, or a 15-minute catch-up at the end of the day to assess how projects progressed.
Individual teams or groups might also set times throughout the week to brainstorm and discuss developments that everyone needs to be aware of.
While it will be near-impossible for everyone to stick to these at all times, remaining as close to these as possible will help ensure that collaboration isn't overlooked due to unpredictable schedules.
4. Allow time for socialisation
Finally, it is important not to overlook that collaboration in a workplace extends beyond the actual work being done. It is also about team camaraderie and socialisation – this is key to fostering successful working relationships and strong company culture, which motivates teams to work at their best.
When working remotely, it is easy for this responsibility to fall by the wayside, and employees become trapped in silos. To avoid this, it is beneficial to organise periods purely for team bonding.
Again, video conferencing technology is a crucial tool to achieve this, as visible body language is more warm and engaging than written chat or phone conversations. You could create a recurring video meeting at lunch hours for people to imitate the experience of a communal lunchroom, or use this software to arrange team-building activities, such as:

After-work virtual games and chats

Collaborative learning circles or group CPD sessions

Regular mental health check-ins
Enhance remote collaboration with the right video conferencing solution
With remote and hybrid working approaches becoming more widely adopted with each passing year, acquiring the right tools and techniques will be essential to maximising collaboration with employees nationwide and globally.
We hope that this has given you a base to pursue more effective, efficient communication in your own business. But, at the foundation of any collaborative remote working model is a robust, dependable video conferencing solution. Without this, it is impossible to mimic the possibilities of a face-to-face office environment.
At CI.Connect, we work closely with clients to identify what they need from a video conferencing solution, and deliver the most suitable software and hardware to meet this. Completely brand agnostic and a commitment to delivering end-to-end service, our goal is to create the set-up that enables you to work as efficiently and capably as possible.
Get in touch with our team today to find out more.